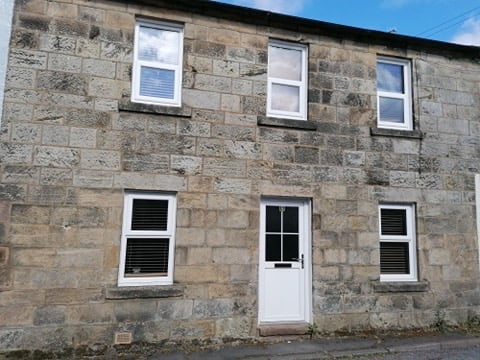 The MERZ Self-Funded Residencies in the Bothy, Tadpole, Snug and No 5 are available throughout the year. Contact us by email at hello@merz.gallery and for more photos go to News tab and 8th June
MERZ – Living Accommodation and Workspaces
In the last year MERZ has grown and now includes Museum of Model Art, Sanquhar, ZIPStudio for local and visiting artists, the art-houses dedicated to Kurt Schwitters and Hannah Höch for short stays (with kitchen, shower and toilet), a second small studio with accommodation (Tadpole), a pop up cinema/further exhibition or studio space (No 5) an unheated studio and sculpture green in addition to the work-shed and yard around the MERZ gallery and Bothy.
The MERZ and Museum of Model Art sites are 100 metres apart and span Sanquhar Cultural Quarter, with A' the Airts (community arts centre), Tolbooth Museum, bakers, greengrocers, hotel, art-shop and newsagents.
MERZ provides a selection of living accommodation and workspaces to suit various needs.
Our Self-funded Residencies are priced on a four-weekly basis. Appropriate studio space is available at no extra cost, and is allocated by availability and suitability. Shorter residencies may be arranged on an individual basis.
PRICE ADJUSTMENTS APPLY FOR BOOKINGS FROM SEPTEMBER 2023:
Living Accommodation includes:
The Bothy – A self-contained living space for up to four people. A raised double bed and storage accessible by ladder, a fold down double bed on ground level, wet-room plus toilet, living space, kitchen and utilities, TV, WiFi, wheelchair accessible. Studio by arrangement.
£1500 per four weeks
The Snug – A cosy room in the flat adjacent to the MERZ office with an elevated double bed reached by ladder, an en-suite toilet with shower, desk, sitting space, TV, WiFi and kitchen and separate entrance. Maximum of two people but more suited to an individual. Would be ideal for a writer/architect/graphic designer/illustrator if no studio (or only a shared studio space) required.
£1260 per four weeks
No 5 – A cosy two/three bedroomed house opposite the Museum of Model Art offering an adaptable studio or living room space on the ground floor. Currently configured with studio on ground floor and living room upstairs, offering a double and a bunk-bed single with bed-settee as third option.
£1680 per four weeks for two £2000.00 for three
The Tadpole – Studio accommodation with a raised bed, studio space underneath, kitchen/utility area, en-suite shower, TV, WiFi, wood-burning stove. Suitable for maximum two people. Additional studio space available on request.
£1400 per four weeks
Studios/Workspaces include:
MERZ Gallery/Workshop – the stand alone former lemonade factory. Indoor space suitable for printing/drawing/writing/research and for exhibition. Includes a shower room with toilet and sink and small kitchen area. Electricity provided by solar panels, heating by a wood burning stove.
Museum of Model Art – the Museum serves as a workshop and artist gathering place when not in use for exhibitions.
Work-shed – There is an outdoor shed with electricity, power tools and equipment available to use, suitable for woodworking/sculpting with a lean-to and yard for outdoor working.
FURTH – An unheated 'indoor outdoor' space. A former garage with a tall ceiling, concrete floor, electricity. Now being prepared as a pottery for the MERZ Pottery Project.
ZIPStudio – a shared studio space, gas central heating – suitable for small scale work.
Exhibition/Display
MERZ Gallery/Workshop suitable for on-going and resident's public displays and exhibitions
Museum of Model Art, Sanquhar – a small museum with an emphasis (as suggested!) on 'models', architectural and design or 'unrealised and imagined proposals conceived in miniature'
Sculpture Green – for display of large outdoor work (murals, sculpture and the art-houses) in a publicly accessible part of Sanquhar's conservation area and Cultural Quarter
No 5 is suitable for short term pop-up displays/screenings/exhibitions offering accommodation with studio/small- exhibition or rehearsal space
The art-houses
Three Polish n-126 caravans converted into art-houses (Kurt Schwitters and Hannah Höch) and Soviet era filmmakers. Sitting on the sculpture green the art-houses are suitable for an immersive overnight/short term visit with access to kitchen, toilet and shower facilities. Suitable (comfortably) for two, each art-house was reconfigured by contemporary artists Amy Marletta, Denise Zygadlo, Dougie Sharpe and David Rushton to build on these artists' legacies into contemporary times from their critical reflections on the crisis in Europe 100 years ago.
£35.00 per night (without bedding £30.00)
For further enquiries contact hello@merz.gallery
MERZ occupies the former lemonade factory in Sanquhar, Dumfries and Galloway, Scotland.
The site includes the self-contained Bothy residency, the adjoining 60m sq workshop/gallery, a tool shed and store set around a brick paved yard beside a small wooded area. MERZ offers a quiet setting close to the centre of a small rural town in Upper Nithsdale.
MERZ provides residencies for artists, authors, makers and architects. The Bothy is a flexible living space for two (with a mezzanine for a further two). The workshop/gallery enables artists to make new work and run workshops and seminars. The adjacent A' the Airts community arts centre offers a fifty seat theatre/cinema with café and can be booked for larger public gatherings.
Sanquhar is on the rail line between Glasgow and Dumfries.
The area has a thriving network of artists, makers and authors. Local schools and community organisations have been engaged in projects at MERZ. MERZ can involve Summerhall TV, who film arts-news clips and documentaries for www.artinscotland.tv, social media and local TV channels in Scotland and abroad.
MERZ is a not for profit centre in the Sanquhar Cultural Quarter and alongside the gallery and Bothy supports the Museum of Model Art, ZIPStudio and No 5 with its own studio. The monthly fees for accommodation and use of the workshop/gallery or museum and (and filming where required) compare favourably with artist residencies worldwide.
MERZ workshop/gallery, Museum, ZipStudio and Bothy and Tadpole accommodations are also wheelchair accessible.
Just across Sanquhar High Street from the Bothy, and beside the Museum of Model Art and ZipStudio, Tadpole is our recent purpose 're-built' self-contained residency. While Bothy is a rural stone building from the 1830s Tadpole is an industrial brick building from the 1890s. Both Tadpole and Bothy are self-contained and close to town and countryside. Tadpole comes with shower, loft-bed and a wood-burner with options to work in the Museum of Model Art, ZipStudio or at MERZ Gallery itself. Snug provides a small self contained residency and is ideal for one person seeking a shorter residency.
Tadpole, Snug, Bothy and No 5 are equipped with WiFi and multiple TV channels.
Ongoing Self-Funded Residency Program
Type of organisation
Residency Conditions
Number of Artists resident at one time
Bothy, single, couple or a small family (maximum four)
Tadpole, single or couple (maximum two)
Snug, single or couple (at a pinch!)
No 5 small family with studio space
Expenses paid by artist
Travel
Accommodation in Bothy
Supplies/materials
Food
Application
Selection procedure
To achieve a balance of pursuits and local/artistic engagements throughout the year which connect with local artists and/or the local community
Description of gallery, museum and residency buildings
MERZ 19th century brick paved former Aerated Water factory
Museum of Model Art & ZIPStudio in restored 19th century brick and stone industrial building
Historic rural town in Upper Nithsdale in South West Scotland
Bothy

Self-contained building
Kitchen with fridge/freezer, washing machine, cooker and hob
Living and sleeping area
WiFi with TV reception
Wet room with shower etc

Snug

Self-contained room in flat alongside MERZ offices above Museum of Model Art
Kitchen with fridge, oven and hob
Loft bed sleeping area with living area with desk and easy chair beneath
WiFi with TV reception
En-suite shower & toilet

Tadpole

Self-contained studio/living
Flexible kitchen and living-work space with further domestic facilities in adjacent kitchen
Loft bed sleeping area with living area with desk and sofa
WiFi with TV reception
En-suite shower & toilet

No 5

Self-contained two/three bedroom house
Kitchen and living-work-studio space
Living room/third bedroom
WiFi with TV reception
Shower & separate toilet
Workshop/Gallery/Museum and Pop-Up Cinema/Gallery/Studio
With toilet, shower and kitchen area
Activities happening in the workshop/gallery spaces
To be arranged with the artists in residence following booking