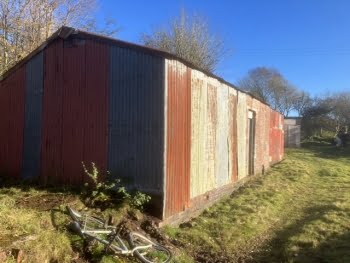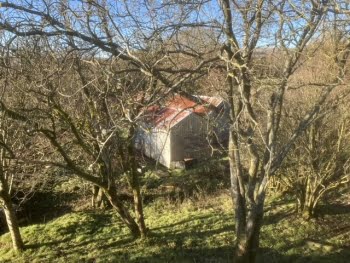 This an initial round-robin to artists and colleagues on a project MERZ is sounding-out to explore developing the remains of Sanquhar's former brick workings. The area very loosely encircled in red on the map comprises a couple of remaining buildings (fewer than shown on this early map) with some rough grass land with a few trees leading to two clay quarries running northwards from a raised former narrow gauge rail line
The site is located to the north of the town on the opposite side of St Mary's St from Clark's Little Arc and the Municipal Tip. The site is 200 metres from the railway station.
Brickfields is banked along the north eastern edge while the south facing ground offers options for hutting and some experimental buildings following archeological studies (with possibly several centuries of clay and brick work to recover).
Rewilding on a small scale is possible by creating ponds. Flax and perhaps willow might be introduced. There's scope for reed bed sanitation for buildings, filtered water from the stream(s) solar panels and small wind turbines. Community polytunnels or glasshouses for cultivation (perhaps built into the hillside with reclaimed glazing). The remaining small brick building could become an education-visitor centre and provide a museum based on what's uncovered of the former brickworkings.
The project could explore the use of clay in earth house and straw bale building as well as hutting in lighter materials. Clay might be wood-fired if a kiln is reclaimed (or by other means). We would seek to work with D&G council's waste management department to maximise reuse of construction materials.
This would require a three or more year project following a year or so's investigative and scoping work and would lead to charitable ownership representing the varied community and artistic contributions.
MERZ interest is to get the project started while providing experience on the restoration of the building(s), tools and accommodation as necessary.
The initial exploratory phase will commence in Spring-Summer 2024 and involve artists and architects to plan, make models draw and paint and exhibit proposals. This early role will help secure funding to realise a sustainable combination of environmental changes that would acknowledge and reveal the site's history while giving it a future.
The internal objective is to make a useful addition to Sanquhar for visitors and residents while the outward objective is to provide experience and examples of creative sustainable living targeting abandoned rural industrial sites elsewhere.