Alan Robinson : New MERZ Window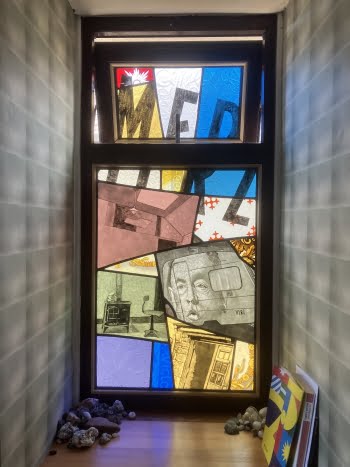 Stained Glass artist Alan Robinson recently completed his second window for MERZ. This window is located in Snug, the micro-flat within the MERZ staff-flat in Sanquhar. Alan incorporated locally found pottery, offcuts of Victorian stained glass as well as newly painted glass to depict elements of the four residential buildings at MERZ. Installed as part of the Sanquhar Arts Festival on the 27th May 2023.
MERZ will be running a Collage and Stained Glass workshop-residency later in 2023 or in Spring 2024.
Snug includes wallpaper and fabric designed by the MERZ Wallpaper Collective below a loft-bed, en-suite shower room and a small kitchen – with WiFi throughout. Snug residents have access to ZIP Studio on the ground floor adjoining the Museum of Model Art. The MoMA buildings are located 100 metres from MERZ and the Bothy, while between the two are A' the Airts community arts centre with cafe and visitor centre and the Tolbooth Museum, providing cultural and historical insight into the local area. Together these four arts buildings comprise Sanquhar Cultural Quarter.