SCHWITTERS' ARMY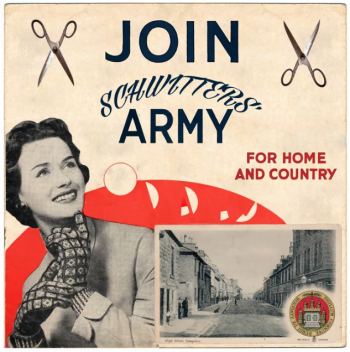 For Kurt Schwitters, MERZ was his manifesto. He explained it as "the combination of all conceivable materials for artistic purposes, and technically the principle of equal evaluation of the individual materials." His intention was to give anything from a used bus ticket to a piece of wire found on the street "equal rights with paint." MERZ liberated artists by declaring anything potential material for their art making and, to illustrate this concept, he made hundreds of collages which he called MERZ pictures. Such forward thinking led art historian Isabelle Ewig to call him the "Father of the fathers of Pop." Really, any collage artist working today owes a debt of gratitude to Schwitters, who not only legitimized the medium, but also established a working practice and aesthetic that is the basis of many artists' contemporary practice.
Schwitters' liberation of material was revolutionary to a world who thought of art as canvas, paint, and stone. In my work, however, I think very little of material. A child of the late 20th century, I grew up in a world where anything could be art and the true material of art was the idea. I think of Yves Klein having a spat with his gallery and declaring all of his paintings invisible. Or his Zones of Immaterial Pictorial Sensibility (1959–62) in which the artist trades empty spaces in Paris for pieces of gold. If the buyer agreed to burn the certificate, Klein would throw half the gold into the Seine to restore the natural order. These are forms of ritual play, gestures no different than Malevich's Black Square or any work of art that asks the viewer to consider more than what they can literally see.
I speak about my work as an artist, as a writer, and as a culture worker, but I think of my work as contiguous parts whose gestalt, I hope, makes a grander point about the liberation of humanity. People tend to get what I mean when I say I am a writer or an artist, but culture worker is trickier. If my art uses paint and fragments of paper and my writing uses words, the material of culture work is the people you engage: other writers, academics, arts administrators, press agents, gallerists, and, of course, viewers and artists. My projects would be nothing without the communities of people involved…and there would be no point to any of it without those communities. Like Erykah Badu said, "We're just emerging into a new state of being altogether."
2019 was a transformative year for me. I've worked harder than I ever had and got farther than I've ever gone. As we start a new decade, and as I push on into middle age, the urgency to make some statements before I move on to another life becomes heightened. I think this is a normal part of aging, particularly when one has been lucky enough to spend much of their life engaged in vocational work. I will spend the first two months of 2020 in residency at MERZ Gallery in Sanquhar, Scotland where I plan to finish some texts that have been building up in me for a few years now. I am grateful for the privilege and want you to be part of it.
Since 2009, fellow Schwitterite David Rushton has been turning an old lemonade factory in rural Sanquhar into MERZ Gallery. He describes where he started, "Imagine a quarter acre plot of rubbish-strewn scrub-land in the centre of a small town. Something discarded and abandoned. It is divided by two rights of way to allow access to gardens serving two cottages along the eastern edge of the plot." From this he has built a mixed gallery and studio space, a bothy for housing visiting artists, and a residency program to support their work at the site." In parallel to Schwitters' assembly of text on paper and his name 'MERZ' for a body of work, I thought there were resonances in adapting his approach and providing description to a small abandoned landscape imprinted with industrial and domestic histories, and that's why I thought to call the site 'MERZ'." Schwitters took "the combination of all conceivable materials for artistic purposes" seriously and twice built immersive environments out of structures: MERZbau in Hanover and, later, the Elterwater MERZ Barn two-and-a-half hours south of Sanquhar in Langdale, Ambleside. 
In preparing for the residency, I've been thinking how if Rushton could apply Schwitters' philosophy to an old factory, I could apply it to my culture work. I often write about collage as a medium, a genre, and a community. More recently, I have been thinking of collage as a 21st century art movement. This is the idea I plan to explore while at MERZ Gallery. I invite you to join me and be part of the manifestation of the international collage community by sending a collage to MERZ Gallery. The collage will be documented and exhibited at the gallery in January and February. I will select one collage each day and share it online and via social media with a few words about how it connects to the work I am doing. And after the exhibition, the collage will become part of MERZ Gallery's permanent collection, a forever stash of art marking the occasion that artists from all over the world manifested in Sanquhar. MERZ Gallery has agreed to maintain and care for the collection and to exhibit the collection in ten years, 2030, or give it to an organization that will do so. 
Why? Because this is what we do in the collage community: we engage, we exchange, we manifest with one another. We emerge into a new state of being together. That is what makes art powerful. It connects us and takes us into the future. 
For further details of how to participate, visit www.rickasinikadour.com
How to Participate
Ric Kasini Kadour invites collage artists to submit a two-dimensional collage for inclusion in the Schwitters Army. 
There is no theme. If you're a ripper, send him a ripped collage. If you're a digital artist, print and send a digital work. If you're a collaborator, send a collaboration. Send a collage that shows what kind of collage artist you are.
Key Details
The preferred size is 8″x10″ (20.3cm x 25.4cm) or smaller. The collage may not be larger than 14″x11″ (35.6cm x 21.6cm). Note: If you send something larger, Kadour will cut it in half. If you send something that isn't collage, Kadour is going to cut it up and turn it into a collage. Mail Art with collage is welcome. 
Once the collage is mailed, please send an email to ric@kasinihouse.com with an image of the collage and title. Also include the artist's name, mailing address and website. If you want, you may also answer some questions, but it is optional. 
Mailing
Mail the collage to:
MERZ
Queens Road
Sanquhar DG4 6DH
Scotland, United Kingdom
Deadline: January 31st, 2020
The collage may arrive at any time, but collages should arrive before January 31st, 2020. Any that arrive after February 15thwill not be processed. Consider the time it takes to mail art from your country to the United Kingdom.
What Will Happen
Upon receipt (beginning January 8th), collages will be documented and registered. The collage will be exhibited at MERZ Gallery through February 20th and then the work will become part of MERZ Gallery's permanent collection. MERZ Gallery has agreed to maintain and care for the collection and to exhibit the collection in ten years, 2030, or give it to an organization that will do so. 
During the exhibition, selected collages will be shared on Kolaj Magazine's website and via social media.
Questions
What is your origin story? When did you first start making collage seriously?
Who was the first collage artist you connected with?
How do you connect with the collage community?
RIC KASINI KADOUR, MERZ artist in residence, January & February 2020
The MERZ Residency Programme is funded by Creative Scotland through the National Lottery.