Jason Maracani : Tactile Shapes: Graphic Elements in Nature (Opening 12th July)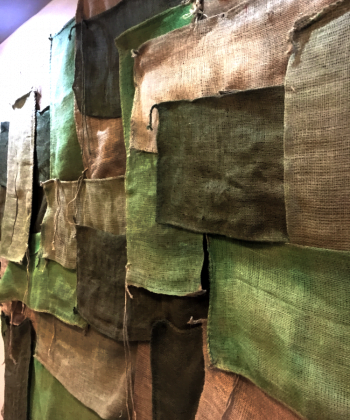 Tactile Shapes is a series of experiments bringing together textural materials, in this case burlap, to make large graphic shapes as a point of juxtaposition. This body of work is a continuation to a set of ideas that I began in Iceland, weaving 500+ yards of fishing rope to create similar wall hangings.  In this iteration, I was inspired by the outlying fields surrounding Sanquhar.  From a distance, the colour variations in the grasses seems to create graphic squares and polygonal shapes that weave themselves together into a single quilted landscape. This  was the point of departure to begin the group of experiments that led to the paintings and tactile wall hangings exhibited throughout the gallery. 
Much of my work centres around unconventional venues, including abandoned, historic, refurbished, and outdoor spaces. My artwork aims to use repurposed or unusual materials in large scale and quantity as a way to draw emphasis to graphic elements already inherent in those preexisting spaces and environments.
I am an artist, theatrical scenic/lighting designer based out of New York City.  I also serve as Design and Production Faculty at Columbia Preparatory Division.
Website: Jasonmaracani.com
Instagram: Jason.Maracani
Email: Jason.maracani979@gmail.com